About Us - Best Hospital Since 1985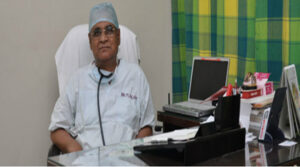 Alam Hospital is the best Hospital because at Alam Hospital & Research Centre, Ranchi our aim is to be committed to providing the best quality healthcare services to all our patients, and that too at affordable rates. By affordable rates, I mean that our hospital strictly sees that the patients are billed in a very transparent manner and we don't keep any component of hidden charges. We charge what needs to be charged and that too at very nominal rates. By doing so I think somehow even a common man is getting access to quality healthcare services. We initiated a tie-up with Fortis Escorts Heart Institute, New Delhi as I saw the people of Ranchi and Jharkhand were forced to go to metro cities in search of good quality and advanced healthcare services. This added to their discomfort and was also financially draining for them. So, I thought to bridge the gap and by now having an association with the Fortis Group for running the Heart Command Centre with us, we are now rendering world-class Invasive and Non Invasive Cardiology and Cardiac Surgery services to our patients right here in Ranchi itself. 
We also are impaneled under the BPL Scheme where we are providing critical patients who are in the category of BPL (below the poverty line) treatment absolutely free of any charge. The healthcare delivery system in India has seen a sea change with the advent of new technologies in recent years and now highly sophisticated types of equipment and machines have made the treatment more decisive and precise. We too have made continuous efforts to keep abreast with the requirements of the modern-era hospital. Our team of well-qualified Doctors and highly skilled Nurses and Para Medical Staff give personalized attention to all our patients. We are also having a facility of 40 plus critical care beds where we admit very sick patients requiring close monitoring.
I hope my hospital will continue to provide all our patients with the best quality healthcare services with a humane touch and utmost care. My advice to you all is to maintain a healthy lifestyle practice. Please make light exercises a part of your routine. Refrain from eating junk food and also too oily or spicy food. It is equally important to remain stress-free. One can try some meditation plus try to have a minimum of 8 hours of sleep.
Please remember…
Prevention is better than cure…
Stay fit, stay healthy…!
With Best Wishes
Dr. Majeed Alam
Know More About Alam Hospital
We are the best hospital in Ranchi since 1985. Surgeon Dr. Majeed Alam founded Alam Hospital & Research Centre in 1985. It is a reputed 150 bedded Super Specialty Hospital stated in the heart of the city of Ranchi. It is a hospital that boasts a highly qualified team of Doctors and well-trained Nurses. The hospital is well-equipped with state-of-the-art facilities & equipment. The hospital has an association with Fortis Escorts Heart Institute, New Delhi to provide services for the Departments of Cardiology and Cardiothoracic Surgery. The Hospital has facilities of an ultra-modern Cath Lab, Modular Cardiac OT Complex along with a well-equipped CCU, ITU, ICU, HDU, 10 Bedded Dialysis Units, Trauma Units, and 24 x 7 services Emergency and Ambulance. We have the latest integrated Hospital Information System for patient billing to maintain complete transparency for the patient party in the billing matters.
Alam Hospital, Ranchi serves as the preferred provider in various specialties such as:
Internal Medicine
General and Laparoscopic Surgery
Non Invasive and Invasive Cardiology
Cardiothoracic Surgery
Neurology & Neuro Surgery
Urology
Gastro Enterology
Obstetrics & Gynecology
Orthopedics
Vascular Surgery
Plastic Surgery
Nephrology & Dialysis Centre
Oncology and Oncosurgery
ENT
Ophthalmology
Paediatrics
Pschiatry
Maxillofacial Surgery & Implantology